Micro-needling
(A treatment for fine lines and wrinkles, acne, scars, pigmentation, stretch marks and scar tissue)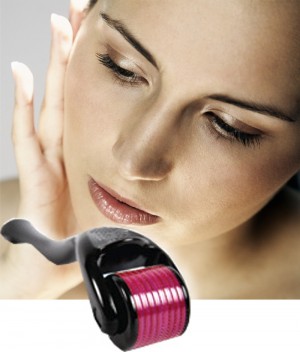 ROLLER
| | | | |
| --- | --- | --- | --- |
| Face | | | €110.00 |
| Course of 5 | | | €495.00 |
| Face & Neck | | | €144.50 |
| Course of 5 | | | €650.00 |
PEN
| | | | |
| --- | --- | --- | --- |
| Face | | | €110.00 |
| Course of 5 | | | €495.00 |
Skin ageing of the skin can result in drooping, wrinkles and lines that can become dry and coarse with uneven skin colouring and broken blood vessels (telangiectasia).
What is Micro-needling?
Micro-needling, also called Collagen Induction Therapy, is an advanced treatment suitable for fine line, wrinkles and pigmentation, scars - including acne, burn and surgical scarring - and stretch marks.
The treatment introduces tiny fine needles into the skin to creating microscopic channels.
How does Micro-needling work?
Micro-needling is a clinically proven skin treatment which encourages the dermis to produce new collagen and elastin and generate new skin cells. This makes the skin firmer, plumper and more youthful. We also apply regenerative serums to the open pores on the skin, after micro needling, which are now more receptive and more easily able to absorb the skin nutrients.
This revolutionary treatment is popular with celebrities such as Demi Moore and Angelina Jolie.
Benefits of micro-needling
Improves fine lines, wrinkles, scarring and pigmentation

Rejuvenates the skin giving a more youthful appearance

Strengthens the skin, improving skin tone and smoothness

Encourages production of collagen and elastin
Contact
Catherine's Laser & Beauty Salon to make your appointment for micro-needling.
Micro-needling Pen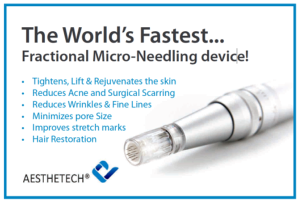 The Aesthetech micro-needle system stimulates production of collagen and elastin to reduce the effects of aging on the skin.
This innovative technology, has been clinically proven to dramatically minimize most skin imperfections such as acne scars, surgical scars, fine lines, wrinkles and stretch marks. The MICRO INJECTOR 217 is specifically designed to provide a treatment that can revitalize and rejuvenate dull, rough or blotchy complexions for a smoother, tighter, and more youthful appearance.
We use pen microneedling to help the following skin treatments:
Tightens, Lift & Rejuvenates the skin

Reduces Acne and Surgical Scarring

Reduces Wrinkles & Fine Lines

Minimizes pore Size

Improves stretch marks

Hair Restoration
Contact
us to discuss the most effective micro-needling treatment for your requirements.